Future road access plans include a new BAA-funded road from the Gogarburn Roundabout linking the A8/M8/A720 national highways directly to the airport.
Passengers travelling through Edinburgh Airport will only be able to check-in bags which weigh 32kg (70lbs) or less. BAA is introducing the new safety measure, which will apply to all airlines and destinations from Edinburgh, to protect the airport's 300 strong workforce of baggage handling staff.
Commission is normally charged at between 1% and 2% per transaction.
Scottish Banks issue their own bank notes and it is worth remembering that these are not readily recognized in England, the coins are OK but if you are travelling into England, it is always advisable to change your Scottish bank notes into the English versions.
Banknotes are issued in 100 GBP. 50 GBP-avoid these denominations-go for 20 GBP. 10 GBP and 5 GBP. In Scotland you also have a 1 GBP banknote. The higher denominations are sometimes refused because of forgery fears. Credit cards are widely accepted but not for cab fares and small purchases. The highest denomination coin is the 2 GBP, followed by the 1 GBP, and then the large 50p. and the compact sized 20p. 10p, 5p. 2p and 1p.
ATM's are commonplace but please check for the logo of your particular card before inserting! Most banks and exchanges have this facility both within and outside of normal banking hours.
BAGGAGE FACILITIES.
Left luggage 0600 - 2200 on ground floor. 1.50 GBP per item for the 1st day, and 1.25 GBP for each consecutive day.

SHOPS AND DUTY FREE.
The shops are open from 0615 until 2215, Newsagency, Tobacco, some pharmaceutical goods, cosmetics, gifts, jewellery, foods and clothes. The Duty free Shops are open on the air side for all International Flights.

FIRST AID/MEDICAL.

Medical Room and First Aid open from 0615 until 2215.

DISABLED FACILITIES.
Wheelchairs, toilets, lifts, telephones, car parking and porters. Taxis are fitted with 'ramps' for wheelchair access.
Everybody's disability-friendly Airline guide and Edinburgh and Lothian Shopmobility provide some excellent information.


©Martin Krupka 2005
UNACCOMPANIED MINORS FAQ.
Written by Adrian Tupper based on information found on the websites of airlines departing from Edinburgh Airport and some other airlines frequently used by travelers based in Edinburgh.
Click here
.
FRIENDS OF EDINBURGH AIRPORT.
This pressure group has been formed to highlight BAA's mishandling of Edinburgh Airport, BAA are showing more enthusiasm for their Glasow flagship despite the fact that Edinburgh Airport is the convenient choice of passengers from all over Scotland. Current growth rates indicate that Edinburgh will overtake Glasgow Airport in 2006 to become Scotland's busiest. A title already enjoyed by Edinburgh's runway.
If you have a couple of minutes to spare...Please see the results our airport survey
EDINBURGH USENET GROUPS
Edinburgh Airport newsgroups:-
alt.airports.uk.edinburgh
alt.travel.uk.air
free.uk.binaries.edinburgh-airport
Online Forum

HOTEL RESERVATION DESK.
Telephone: 0131 344 3130, fax: 0131 333 1670. This facility is organized by Thomas Cook and is situated on the ground floor. It has a full list of last minute vacancies and cancellations. The hours are from 0800 until 2230. Winter hours are 1000 until 1800.
The main runway lies in an East to West direction and can handle aircraft up to Jumbo Jets and the new Boeing 777. An additional runway has been mooted in the future.
The now decommissioned Concorde had visited EDI numerous times. Scotland's Museum of Flight is located 32 miles from Edinburgh Airport. The Concorde display experience is scheduled to open in March 2005.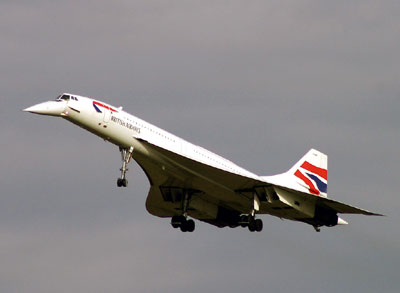 Concorde's last flight into Edinburgh
G-BOAE 24 Oct 2003 ©Joe Curry2003

Edinburgh (EGPH) N55 57 09 W03 21 41
Elev: 135' Waypoint: GOW (115.40) 089-R at 37.0nm
Rwy: 06/24 8,479' asphalt
ILS: 108.9/108.9
LOM: 368/341
ATIS: 131.35
EDINBURGH EGPH 5557N 0322W 135FT 06/24 8400FT
06 TORA 8400FT ASDA/TODA 8600FT LDA 7700FT
24 TORA 8400FT ASDA 8600FT TODA 9865FT LDA 7700FT
Runway is CAT II/IIIa with full autoland facilities.
TORA-Take Off Run Available
TODA-Take Off Distance Available
ASDA-Actual Distance Available
LDA-Landing Distance Available

R24©Colin Abbott 2000
Full-length parallel taxiways are now operational. Various aspects effect performance. Most airlines have their own draw-up airfield data. This includes the runway lengths, take-off weight, temp, windspeed for flap settings, intersections and climb, restrictions all effect the departure of the aircraft. Weight is the main restriction for allowed runway use.
Most Edinburgh flights are European. Aircraft rarely carry full tanks and full payload. This allows the aircraft to return at a safe landing weight which would be under the MLW.
The runway threshold is the starting area of the runway the ILS touchdown point (the piano keys) are always located further down. This stops aircraft from undershooting the runway. This is the same at all airports.
Edinburgh ILS has a 3 degree glideslope.
Various long-haul 'one-off' flights from Edinburgh include:
Air Gambia Boeing 747-200 Edinburgh-Gambia
Air India Boeing 747-200 Edinburgh-Delhi
Northwest Airlines DC-10-30 Edinburgh-Boston
American Trans Air L1011's Edinburgh-Orlando and Edinburgh-Boston
Worldairways L1011 Edinburgh-Toronto
Philippines Airlines Airbus A340's Edinburgh-Manila
Tower Air Boeing 747 Edinburgh-New York
Air Transat fly a Summer weekly schedule to Toronto from EDI and these fully loaded Tri-Star and A330/310 aircraft manage the primary runway with ease.
The secondary runway (12/30) lies in a South to North direction and can handle aircraft up to the Boeing 767 size.
There was a third runway which was used by smaller aircraft and general aviation, mainly by a flying club, but this was closed in 1999, never to return. The new South Cargo Apron and the new long-stay car park both impinge on it.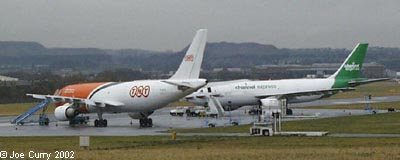 AIRBAND RADIO ENTHUSIASTS AND AIRCRAFT SPOTTERS.
Edinburgh Airport boasted one of the finest spectator's terrace in the country but BAA have since closed it. They do not wish to cater for non-flyers and I now recommend spectators and spotters to go to the nearby car-parks at Ingliston Market where excellent views are available. Remember to take some refreshments with you and to take your 'rubbish' home! [Note Warning below]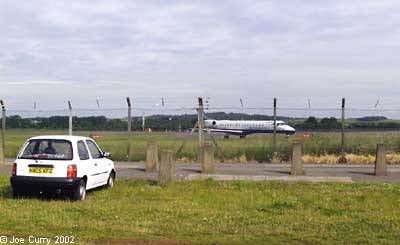 Airband Radio users can tune into all the following frequencies.
Edinburgh Approach.........................121.200
Edinburgh Ground...........................121.750
Edinburgh Tower............................118.700
Edinburgh Radar............................128.975
Aerodrome Terminal Information Service......131.35
Click here for a list of Company Frequencies

Air Navigation
Useful Aviation Info
Heathrow & Gatwick Movements
More Aviation Info
Plane-Pics.net
Interproducts - Publishers and Distributors of Radio Books and Software
The Airline History Website
Civil Aircraft Photographs
Edinburgh Plane Spotting- Martin Krupka
Pictures of Aircraft.com - Edinburgh
Outside of the airport you can get fine views at The Gyle Centre. Cammo Road at the Railway Bridge and Eastfield Road at Newbridge. Depending of course on which runway is in use. A more general view of touchdowns and take-offs can be accessed from the car parks at Ingliston Market. A similar view is available North of the main runway at the River Almond Bridge.
IMPORTANT WARNING...please refrain from cutting wee holes in the perimeter fence to allow telephotos through. The airport security and the Department for Transport are both getting shirty about this, and if anyone is caught by the police, they will be charged with vandalism. Enthusiasts and airport police enjoy a good relationship, and neither party would not wish to see this spoiled by a thoughtless minority.
FUTURE EXPANSION OF EDINBURGH AIRPORT.
On-going construction work to expand Edinburgh Airport is in constant progress. Most notable being a new South-East terminal extension..no start date yet. It is hoped that the scheme will double the present passenger capacity and put Edinburgh into 6th. place behind Heathrow, Gatwick, Stansted, Manchester and Birmingham.
The first phase of the work was completed in 1999, it included numerous terminal facilities and expanded the number of parking spaces for aircraft.
Currently there are 17 terminal stands for planes and numerous others which require passengers to be 'bussed' to the terminal. A new widebody stand to accommodate A330/B777/340/747 aircraft on a regular basis long overdue. A multi-storey car park has been constructed and has been operational since late 2004.
NEW ATC TOWER.
A new Air Traffic control tower is under construction and will provide another landmark circa October 2005. Full details here.
International passenger traffic has doubled during the last three years and is expected that this growth will be maintained. In fact Edinburgh Airport is now Scotland's busiest for scheduled International flights. London domestic traffic accounts for 60% of Edinburgh's total traffic figures. This is in its self not surprising considering that Edinburgh is second only to London for the number of visitors that it plays host to every year. There are now over 130 daily flights between Edinburgh and the five London Airports. Edinburgh Airport is now the UK's 2nd busiest airport for domestic traffic after London.
The official growth figures have been consistently underestimated by the BAA, present owners of the airport, who delayed expansion. May I extend the apologies of Edinburgh's citizens for the congestion and inconvenience they may experience during what seems to be never-ending construction work.
EXPANSION plan Option 8 [Oct 2002] seems the favoured option for a future Edinburgh Airport - an airport worthy of the title "Edinburgh Central Scotland International"! One of six plans projected at a recent seminar at the Edinburgh Hilton Hotel. All featured plans highlighted a Scotland-wide rail link under the terminal building. View the Plan here [1000x690, 170kb].
BAA published their own Master Plan for Edinburgh Airport in May (2005), a bit modest compared to Option 8.
Watch this space...
| | |
| --- | --- |
| Simon Boohroyd© 2006 | "Cleared to Land" © 2006 |
THE FUTURE
Edinburgh's continued growth in passenger figures could mean a major rethink of Scheduled Transatlantic services to Scotland. We now have Continental operating it's successful daily New York flight. We are still awaiting much needed daily Canandian flights. Other long-haul flights are noticable by their absence..why?
If you have a couple of minutes to spare...Please see the results our airport survey
STATISTICS - FACTS AND FIGURES - EDI Versus GLA
Click here to request month-on-month spreadsheets in Excel format by e-mail.
Edinburgh Airport is the second best performing airport in the British Airports Authority UK portfolio and far and away the best performing of their 3 Scottish airports. The reasons are that Edinburgh is the centre of the Scottish legal system, financial system and administration. The advent of the reconvened devolved Scottish Parliament in Edinburgh following nearly 300 years of rule from London has added to the city's vibrancy and further fuelled the remarkable economic boom currently in progress.
In 1992 / 93, Edinburgh Airport handled 2.56 million passengers and was regarded as a sleepy, provincial operation. She is currently handling 8 million [Jan 2005] and is no longer a sleepy provincial but a confident International player that has seen remarkable growth. Current growth for passenger traffic is 7.5% [Dec 2004]. Edinburgh is currently Scotland's busiest runway in terms of air transport movements.
As well as catering for passengers, Edinburgh Airport is now a major air freight centre with it's excellent road network to other parts of Scotland, particularly to the very successful electronics industries in West Lothian. Edinburgh continues to be Britain's No 2 tourist destination and, with growing international prestige, Edinburgh is assured of being able to continue attracting tourists to this, one of the world's most beautiful cities.
The International conference market also brings many thousands of visitors to the airport, Edinburgh being ranked as an International conference destination. New prestige retail developments such as Harvey Nichols are to favour Edinburgh and these developments will further add to Edinburgh's prestige and almost certainly attract further tourism. There now seems no limit to the potential of Edinburgh Airport other than perhaps BAA using 'calming' measures for future development.
The present owners of Edinburgh, Glasgow and Aberdeen airports, are the British Airport Authority, they seem loathe to promote scheduled transatlantic or long-haul services away from their Glasgow flagship. They appear to be operating a categorisation policy, actively encouraging certain flights to leave from the airport of BAA's choice and not the choice of the travelling public. This is blatent social engineering and is an abuse of their Scottish monopoly. Indeed, they appear to have special discounts that are not available at Edinburgh.
Let us hope that Continental Airways daily transatlantic flight to New York (consistent 94% loads since inception) will provoke more long haul insistence from other airlines.
The Regional Airports Review looked at access to each airport expressed as population against travel times.
The RASCO figures showed:
1-hour access time by road:
To Edinburgh Airport : 2,536m or 50.1% of the Scottish population
To Glasgow Airport : 1,982m or 39.2% of the Scottish population
To Prestwick Airport : 1,401m or 27.7% of the Scottish population
2-hour access by road:
To Edinburgh Airport : 4,01m or 79.2% of the Scottish population
To Glasgow Airport : 3,756m or 74.2% of the Scottish population
To Prestwick Airport : 3,407m or 67.3% of the Scottish population

In fact BAA's Scottish Airport's were on record a few months ago describing motorway access to Glasgow Airport as 'poor'.
Hopefully the recently devolved Scottish government will recognize the monopoly situation involving Scottish Airports and order The British Airport Authority to sell off it's Edinburgh and Aberdeen interests. Or perhaps somebody would care to make a bid right now! Or the Scottish Parliament might get off their backsides?
One glaring omission at Edinburgh Airport is the lack of a direct rail link to Edinburgh City Centre. Would you believe that the main Edinburgh - Aberdeen Railway line runs along the Northern perimeter? Plans are in hand to provide EDI with a heavy rail link connecting EDI with Glasgow city, Aberdeen, Inverness etc. and the East Coast Main line down into England.
TheEdinburgh Evening News reported on 14th November 2000 thatEdinburgh Airport could be given a massive boost by a new underground rail interchange. Click here to read the report. See also Expansion Plan Option 8 [Oct 2002].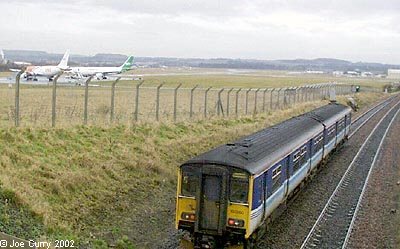 The main Edinburgh - Glasgow Railway line also runs within 1/2 mile of Runway 06's threshold. There are plans to build a station at nearby Edinburgh Park which will serve both Edinburgh - Glasgow and Edinburgh - Aberdeen lines. These stations entail a further surface transfer to the airport and BAA should hang their heads in shame! Meanwhile BAA have announced a GBP8.1bn upgrade of its London airports! (April 2002)
AIRLINE RESERVATION NUMBERS.
Dialing codes: Applies to all telephone numbers listed in this text.
Europe: 00 44 and miss out the '0' ie 00 44 645 737 737 for Aer Lingus.
North America: 011 44 and miss out the '0' ie 011 44 (645) 737 737 ditto.
| | |
| --- | --- |
| Simon Boothroyd ©2002 | Tony Marlow ©2004 |
SCHEDULED FLIGHT TIMETABLES.These have been discontinued; another BAA shot-in-foot?
Aer Lingus ....... 0645 737 747       Swiss .......... 0845 601 0956 
British Midland .. 0870 6070555       Easyjet .......... 0990 292929 
Air France ....... 0345 581 393       SAS ............. 0345 090 900 
KLMuk ............ 0990 074 074        
Flybe.com ....... 0131 333 1000       Euromanx ........ 01624 822123
British Airways ... 0345 222 111

Easyjet & Ryanair are no longer keen on phone bookings.
Unaccompanied Minors? Please read our FAQ

Please visit the Links Page for the Airlines' own websites. 
| | |
| --- | --- |
| Joe Curry ©2002 | Robert Pittuck © 2006 |
DESTINATIONS. (A selection) you can fly to and from any airport in the world from Edinburgh over the various London and European Gateways.
 
 
Aberdeen            Abu Dhabi            Amsterdam          Athens      
Barcelona           Billund                Belfast City       Berlin      
Birmingham          Blackpool            Bristol            Brussels    
Budapest            Cairo                Cardiff            Cologne     
Copenhagen          Cork                 Dublin             Dundee      
Dusseldorf          East Midlands        Frankfurt          Geneva      
Glasgow             Gothenburg           Hanover            Helsinki    
Hong Kong           Humberside           Inverness          Istanbul    
Jersey              Johannesburg         Jonkoping          Kalmar      
Kirkwall            Leeds Bradford       London (LGW)       London (STN)
London (LHR)        London (LTN)         Madrid             Manchester  
Milan               Munich               Nairobi            Nice        
Norrkoping          Norwich              Orebro             Oslo        
Paris               Plymouth             Riga               Rome        
Shannon             Shetland             Singapore          Southhampton
Stavenger           Stockholm            Strasborg          Stuttgart   
Sydney              Tallinn              Tel Aviv           Tokyo       
Vasteras            Vaxjo                Vienna             Vilnius     
Warsaw              Wick                 Zurich                          

New Destinations: London City, Frankfurt, Vienna, Copenhagen, Gothenburgh, Cambridge and Billund. More in the pipeline!
TRANSATLANTIC AND FAR EAST
Edinburgh has remarkably good access to most of the popular destinations, especially by using the services of BA and KLM. On BA, for instance, connections via Heathrow, Gatwick, Manchester and Birmingham give easy access to all 40 cities of the Americas and the Caribbean, plus Europe, Africa, Middle East, Asia and Australasia.
Continental Airlines are now operating DAILY DIRECT NEW YORK SERVICES. Full connections to over 100 cities in the USA and many in Canada. Now extra frequencies in 2005. Book here.
KLM have flights to Amsterdam (1 hour and 30 minutes) from where there is a wide range of flights, including nine US destinations plus several code-shared flights by Northwest, 13 Far East destinations plus Sydney. A bonus is a minimum connecting time of just 50 minutes at Amsterdam. Air France via CDG, Lufthansa via Frankfurt, Tyrolean Air via Vienna and British Midland via Manchester, Brussels and Copenhagen and CSA via Prague.
CHARTER CARRIERS AND DESTINATIONS.
Edinburgh based Globespan have not been slow to recognize Edinburgh's Transatlantic potential and have Summer charters to Toronto. Thomas Cook have also introduced Canadian summer weekly flights.
HANDLING AGENTS.
Servisair handle enquiries for the following and their Telephone Number is: 0131 344 3111. R/T 130.60.MHz. They also have an inquiry desk on the ground floor.
Austria, Innsbruck ...... Tyrolean
Belgium, Brussels ....... bmi
Black Sea Resorts........ Air Via
Bulgaria, Albena/Drouzhba Air Via
Canada, Toronto ......... Air Transat
Gran Canaria,Las Palmas . Spanair & Monarch
Tenerife, TFS ........... Futura Int
Tenerife, TFS ........... Air Europa
Tenerife, TFS ........... Spanair& Monarch
Channel Islands, Jersey . Manx Airlines,
                          British Midland
Corsica.................. Braathens
Cyprus, Larnaca ......... Monarch,EuroCypria
Denmark, Copenhagen ..... British Midland
France, Paris ........... Air France,
                          British Airways
Germany.................. Lufthansa
Greece, Zakynthos ....... Monarch
Holland, Amsterdam ...... KLMuk
Ireland, Dublin ......... Aer Lingus
Majorca, Palma........... British Midland

Majorca, Palma ......... Futura Int
Majorca, Palma ......... Britannia
Majorca, Palma ......... Spanair
Majorca, Palma.......... Monarch
Majorca, Palma ......... Air Europa
Ibiza .................. Air Europa
Menorca, Mahon.......... Futura Int
Menorca, Mahon ......... Airtours
Malta .................. Air Malta
Portugal ............... Air Azores,
                         Monarch,Air2000
Spain, Alicante ........ Britannia,
                         Monarch
Spain, Reus.. .......... Spanair
Spain, Malaga .......... Britannia
Sweden, Stockholm ...... SAS
Sweden, Gothenburgh..... Braathens
Switzerland, Zurich .... Swiss Int'l Air Lines
Turkey, Bodrum.......... Onur Air
Turkey, Dalaman ........ Monarch
USA, Florida ........... European Aviation
GENERAL AVIATION INFORMATION.
The General Aviation Terminal is located to the South East of the main terminal building. On approaching the main terminal from the M8 road take the only road on the right hand side by the Hilton Hotel for the General Aviation Terminal. It includes a lounge, toilet and telephone facility. Tel: 0131 344 3139 or 0131 344 3172.
The handling agents are:
  Servisair: R/T .....................  130.60 MHz  
            Tel ....................  0131 344 3111   
Execair: Tel ....................  0131 317 7484
         Fax ..................... 0131 317 7484
         Telex .............. 94018141 EXECAIR-G
Comet Handling: Tel .............. 0131 339 4619
                Fax .............. 0131 333 2255
               e-mail  ops@comet-handling.co.uk
Edinburgh Air Charter..............0131 339 8008 
Edinburgh Flying Club..............0131 286 0966
Forth Helicopters..................0131 339 8877
Glenair Helicopters................0131 339 2321
Turnhouse Flying Club..............0131 339 4706
Aircraft Engineering...............0131 333 4150
Fax................................0131 333 4149 
APOLOGY
Sorry that the info here is a bit basic, too short or too long. But it represents one man's passion for his local airport. I would like suggestions or perhaps someone can put this together better than I have. My acknowledgements to Pam Massey, fellow member of Zetnet Internet services for her help and patience. Please email me at ability@zetnet.co.uk, even if it's just to let me know that you have read it. Thanks for your tolerance.
For Tourist Information, How to get to EDI, Car Parking, Public Transport,
The Weather, and other related links, Please click here.
If you have a couple of minutes to spare...Please see the results our airport survey
Happy flying........
Joe Curry
To view many other Aircraft photos of mine:-
Visit Jetphoto.net and Airpics.com
 

Top of Page