Tourist Info.

Airport Facilities

City distances & Check-in times

EDI and Enthusiasts Info.

Getting to EDI/Transport/Parking

Car hire/Local hotels

The future of EDI

Airlines/Destinations

Handling Agents

Airline Links

Other Links

Pre 2002 Gallery

2002 Gallery

Future Plans [2002]
EDINBURGH INTERNATIONAL SCOTLAND'S CAPITAL AIRPORT

Simon Boothroyd ©\2003
"Get here if you can"
Tourist & Transport Information
View the airport layout
View the approach roads to EDI
Click here for uk.multimap to obtain directions
Please see the results our airport survey
Click here to download BAA's plans of the Ground and First Floors at EDI
TOURIST INFORMATION.
Telephone 0131 344 3125. Open from 0830 until 2130 in the summer. 0900 until 1800 Monday to Friday and 0900 until 1700 on Saturday and Sunday in the Winter. This is situated on the ground floor.
Edinburgh and Lothians Tourist Board
Need somewhere to stay? Search www.stayinedinburgh.net
Edinburgh based newspaper
Excellent galley of photographs of Edinburgh
The Ultimate Guide To Edinburgh
Edinburgh Festivals
Ghost Walk
Witchery Tour site
Click here for Telephone Directory Enquiries if you are looking for a particular name/address/hotel etc.
Lothian Buses - including Tourist Tours
Edinburgh Convention Bureau

HOTEL RESERVATION DESK.
Telephone: 0131 344 3130, fax: 0131 333 1670. This facility is organized by Thomas Cook and is situated on the ground floor. It has a full list of last minute vacancies and cancellations. The hours are from 0800 until 2230. Winter hours are 1000 until 1800.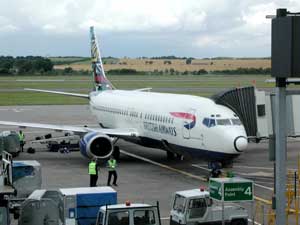 Simon Boothroyd ©\2002
HOW TO GET TO EDINBURGH AIRPORT.
Road access to the Airport is easy from the two-level junction on the A8 trunk road, midway between the Gogar and Newbridge roundabouts. If approaching from the Edinburgh side join the A8 from the city bypass and proceed toward Ingliston. Just before reaching the Royal Highland Showground, take take the left hand slip road to join the Edinburgh Airport approach road.
From the North and West you should join the A8 at the Newbridge roundabout and proceed toward Edinburgh. Just past the Royal Highland showground follow the directional signs for the Airport. Indeed the Airport directional signs should be followed no matter what direction you approach from. Edinburgh Airport can boast traffic congestion free access at most times.
CAR PARKING AND PUBLIC TRANSPORT.
One Hour Parking: Up to 30 minutes= 80 uk pence. Up to 60 mins= 1 GBP.
Every additional 30 minutes. 2.00GBP.
BAA's main car park: Any period = £6.70 per day.
Bus: Frequent bus service from the terminal forecourt to Haymarket Station and the city centre terminus at Waverley Station. Call Lothian Region Transport on 0131 555 6363, Guide Friday on 0131 334 3136. for further information. Fares are 3.40 GBP for a single journey or 5 GBP return.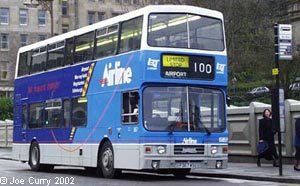 Train: Edinburgh's main railway station (Waverley) is in the city centre and is reached by taxi (cab) or the above bus service. Direct rail services are available to the West and North of Scotland, into Fife and South into the England. For full details of rail services Telephone 0131 556 2451.
Taxis: Taxis (cabs) available from the terminal forecourt. Edinburgh City Centre is a 20 minute journey and cost 14-15 GBP. Telephone.0131 344 3344 for details of other fares. Please ensure that the cab you hire has a visible taximeter and that the driver uses it! It is the practise to charge 'special' fares out with the Edinburgh City boundary. Insist that the driver engages the meter. If your request is refused, engage another cab that agrees to meter the fare. Average journey cost are about 1.50 GBP per mile. All cabs are licensed by the police and have taxi meters fitted - make sure your driver uses it. The drivers have photo ID's prominently displayed on their person.
Car Hire: Self drive and chauffeur driven cars are available from the desks in the main concourse.
Alamo ........................ 0131 333 5100
Avis ......................... 0131 333 1866
Europcar...................... 0131 333 2588
Hertz ........................ 0131 333 1019


The Edinburgh airport Hilton Hotel is nearby. It boast 134 bedrooms, restaurant, conference facilities and a full leisure centre.
The Quality Hotel is adjacent to and about 800 yards from the main runway. Definitely for Airport enthusiasts.!
 
Edinburgh Airport Hilton .. 0131 519 4400
The Norton House Hotel .... 0131 333 1275
The Royal Scot ............ 0131 334 9191
Holiday Inn ............... 0131 332 2442
Hilton National ........... 0131 332 2545
Post House ................ 0131 334 0390
Sheraton .................. 0131 229 9131
The Quality Hotel.......... 0131 333 4331

BUDGET HOTELS.
Travel Inn
Travelodge

Top of Page
| | |
| --- | --- |
| | Throughout the UK, the British Red Cross assists the statutory authorities in dealing with needs of individuals affected by major emergencies, such as train crashes, aircraft accidents and floods, ensuring that victims, survivors and their families are provided for in the immediate aftermath of a disaster. If you would like to make a donation please click here |

Please take a look round the Gallery of visiting aircraft.


Or visit the Links Page for the Airlines' own websites.
If you have a couple of minutes to spare...Please see the results our airport survey
Happy flying........

Joe Curry
Top of Page